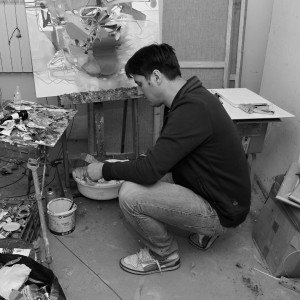 I'm a modern painter.
I do not want to dwell about  importance of my painting, hidden subtext and analysis, because this evaluate is   for others. I want to write where I'm going. I want to first of all a synthesis of form. My work revolves around the form but they are more mysterious forms than people .In my paintings undergoing like the process of geometrization - which brings to mind the science experiments on the creation of a new entity, where getting errors - and this is my inspiration, unsuccessful and abandoned form. For these forms of paint I use various means - sometimes they have coating surrealism and sometimes fade into nonexistence abstract.
I am open to comments and if you have any comments about my work, please contact me via the form, or visit my website at https://www.facebook.com/daniel.maczynski.75, as well as my profile on the website of an online gallery http://www.saatchiart.com/danmac
Daniel Mączyński
b. 05/05/1976
Education - Master's degree in fine arts institute in WSP Częstochowa - degree of specialization and drawing
exhibitions and events:
2012 - a record 22 Young Art Auction Desi Unicum - Warsaw
2013-exhibition, organized by the Gallery Berg and the Embassy of Luxembourg for the store in Soho Factory Malemen Warsaw
2014 inclusion in ART Invest in part IV, promoting promising artists, organized periodically by Saatchi Art.
2014-several times -selection of my paintings for the weekly collection of the main gallery at the Saatchi Art - curated by the Saatchi Art director Rebecca Wilson
2014-exhibition Fri. "Faces", Gallery Sarow - Pforzheim, Germany